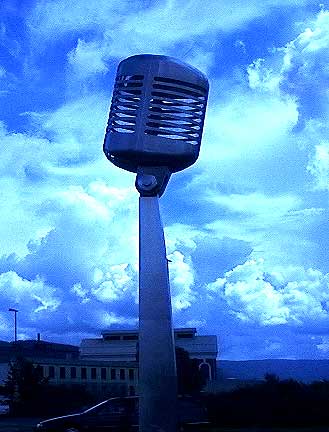 July - August 2009
Patti and I were once again invited to attend the Notodden Blues Festival in Norway to document some video material for the future European Blues Senter as well as to document the European Blues Union Conference.
The Notodden Blues Festival is one of the best Blues festivals that we've had the pleasure of attending. I did a piece on the festival a number of years ago for my telelvision series and it gets better every year. This year, the festival featured artists like Buddy Guy, Jack Bruce & Robin Trower, Joe Bonamassa, Jools Holland, Beth Hart, Rick Estrin, The Soul of John Black, Shemekia Copeland, T-Model Ford, Robert Belfour as well as number of great European Blues artists such as Bjorn Berg, the Ruf Caravan featuring Oli Brown, Erja Lyytinen & Joanne Shaw Taylor to name a few. For more information on this festival, go to www.bluesfest.no.
As part of the festival this year, Notodden Blues Festival also hosted the second annual European Blues Union Conference which was attended by over 60 blues industry delegates from 16 different countries. It was great to meet some of the delegates from places like Germany, Ireland, France, Switzerland and Italy. It truly makes one appreciate how blues music is appreciated all over the world. For now, the goal of the European Blues Union is to create a website which will contain contact information of blues bands, venues, festivals, labels, distributors and blues societies for each of the participating European nations. You will be able find this information at www.bluesyou.com at a future date.
Thanks to Jostein and Ed, for the great festival they organize - and for allowing us to work there.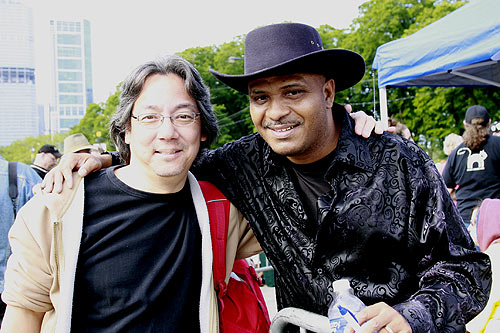 June 2009
This year, for the first time, I attended the Chicago Blues Festival at Grant Park. If you haven't been there, it is definitely a festival that I would highly recommend. One cannot help but be impressed with the array of talent that are featured at the festival and perhaps more importantly, the number of people who attend and support the festival. I have no idea how many people attend each day or where all of these people come from but whatever the case, it is certainly encouraging to see such support and interest for the Chicago Blues Festival.
Since I shoot all my images with a video camera, I was unable to capture any images at the festival (due to rules and regulations with the festival) but Boguslaw "Bogie" Kwasny, a wonderful photographer from Chicago, was kind enough to take a shot of me with Lil' Dave Thompson right after his blistering set on Saturday afternoon. If you've never been to the Chicago Blues Festival and you like the blues - well, you really should make a point of going. Even if blues isn't your thing, Chicago is a wonderul place worth visiting for sure.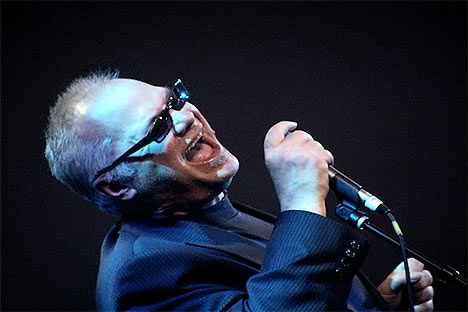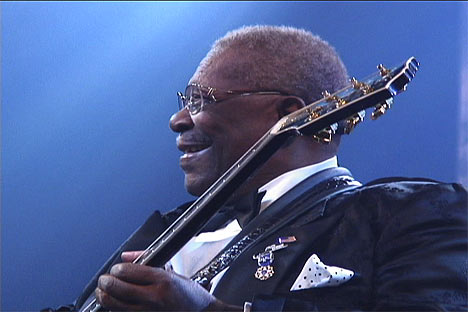 May 2009
The month of May means it's time for the Blues Music Awards in Memphis. If you're a Blues fan, this is the Blues event of the year. Over the past few years (excluding last year), I have had the privileged of producing the "In Memoriam" video for this Award show. As I have said before, I seem to get a lot of credit for this work but the reality is that I get to assemble photos of some of the great musicians we have lost in the past year, taken by some of the best Blues photographers around the world. It is an honor to pay tribute to these great musicians and to work with these great photograpers. If you've been reading my "news" section over the past little while, you will know that this year, I lost a couple of close friends in the blues world - which made this year's tribute, a little more personal than usual.
Every year, the Blues Music Award show features an amazing line up and this year was no exception. There were tons of musical highlights but for me, seeing Curtis Salgado with B.B. King was pretty amazing. Anyone who knows me knows how much I love Curtis - but to hear him sing on stage with B.B. King? Well, it just doesn't get any better than that.
Another highlight for me was seeing Billy Gibson perform right after he won the "Harmonica Player of the Year" Award. It was great to see someone who was geniunely thrilled to have won the award and channel that feeling to his performance on stage. One could say the same about Cedric Burnside and Lightnin' Malcolm who were also pretty spectacular on stage. I've posted some images from the Awards show on my Images page. You can click on BMA 2009 on the Images page to view those photographs.